Skip to Content
L. R. Willson & Sons, Inc.
QUALITY STRUCTURAL STEEL ERECTION IN BALTIMORE, MD
Mid-Atlantic Source for Structural Steel Erection, Crane Rentals and More
Renowned for its strength and versatility, structural steel is one of the most widely used building materials in today's commercial and industrial construction industries. It's commonly found in everything from a building's framing, structural beams and floor joists to its roofing and siding. If you're looking for reliable structural steel erectors in the Baltimore, Washington, DC or Northern Virginia area, you've come to the right place at L.R. Willson & Sons, Inc.
Family-owned and -operated since 1971, we're a certified Advanced Steel Erector with the American Institute of Steel Construction (AISC) for your peace of mind. We also specialize in precast erection, tilt-up panel erection and crane rentals for customers spanning multiple industries. We're immensely proud of our well-earned reputation for being "The Mid-Atlantic's Most Versatile Steel & Precast Erector."
Why You Should Choose L.R. Willson & Sons, Inc.
There are many reasons why you should feel comfortable turning to L.R. Willson & Sons, Inc. for all your structural steel erection and crane rental needs, including the following:
NCCCO Certified Operators
Our operators are certified by the NCCCO National Commission for the Certification of Crane Operators.
Knowledgeable Staff
Our knowledgeable staff can help you determine the correct crane for your job.
Mid-Atlantic Coverage
Covering the Mid-Atlantic area, we know that L.R. Willson & Sons, Inc. will become your first choice for crane rentals.
Various Crane Sizes
With cranes ranging in size from 23 to 300 tons, we can help you determine the right crane for your job.
Safe & Efficient
Safety and efficiency and customer satisfaction are our highest priorities. We employ operators Certified by the NCCCO National Commission.
In Business Since 1971
L.R. Willson & Sons, Inc. has a proven track record and has been servicing the mid-Atlantic region since 1971!
Free Quotes
Not sure what size equipment you need for your project? Let our professionals determine your lifting needs. We never charge for a quote.
Various Industries Served
HVAC, Mechanical, Steel, Concrete, Cell towers, Masonry, Roofing, Fire and Restoration, Glazing, Scaffolding Landscape, Civil, Precast, Hoist, Septic, Fuel and other Tank, Drilling, Demolition, Sub Station, Industrial Industries, and more!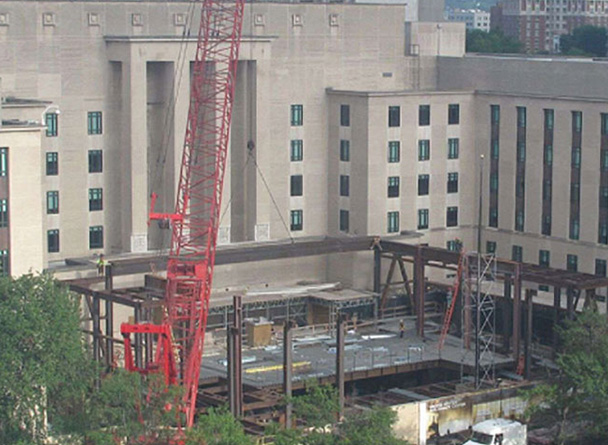 Request a Free Estimate in the Baltimore/DC Metro Area
Whether you need a crane rental or structural steel erection in the Baltimore or Washington, DC area, L.R. Willson & Sons, Inc. has all your needs covered. We have a large fleet of well-maintained equipment and experienced operators available to operate it for you upon request. Request a free quote for our many services today via phone or email. We look forward to serving you!