Skip to Content
Well-Maintained Crane Rentals in the Baltimore Area
Do you need to safely elevate building materials on your job site? While there are many local crane rental companies in the Baltimore area for you to choose from, you can't go wrong with L.R. Willson & Sons' sister company, Crane Rental Now. From hydraulic truck cranes to tower cranes, lattice boom trucks and crawlers, we maintain a large fleet of equipment to suit projects of all sizes. Not only do we provide the well-maintained equipment you need with cranes ranging from 23 to 300 tons in size, but we also have experienced, NCCCO-certified operators ready to assist you on your job site as well.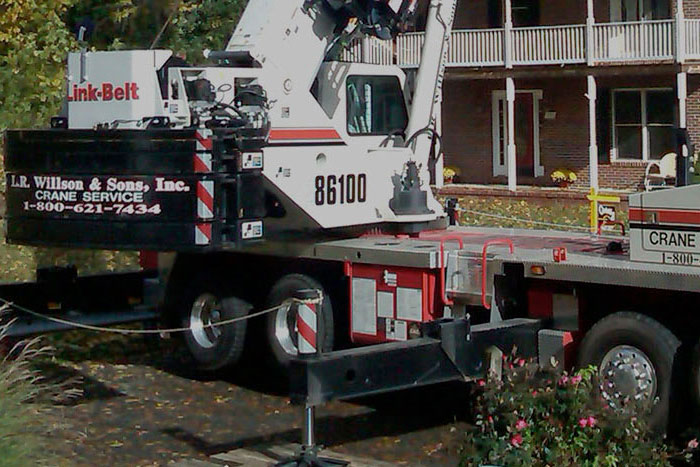 Test Cranes and Other Equipment Before You Buy It
One of the biggest advantages offered by our crane rentals is the fact that we allow you to try out expensive equipment before you commit to buying it. This is especially useful if you don't know what type of crane would work best for your job. We have many specialized cranes available to suit your project's unique requirements. And best of all: you don't have to worry about maintaining the equipment or experience any downtime while it's being repaired. We handle all of the maintenance and finding suitable rental replacements on your behalf. With so many types and sizes of cranes at your disposal, switching your equipment out on a project has never been easier or more convenient. Is it any wonder we're one of the Mid-Atlantic Region's top choices for crane rentals?
Serving the HVAC, Mechanical and Steel Industries
Serving customers in the HVAC, mechanical, steel, concrete, restoration and many other industries, Crane Rental Now would welcome the opportunity to help you select the right crane for your needs. In addition to our crane rentals in the Mid-Atlantic Region, we also provide rigging, trucking, hauling and indoor/outdoor storage services. As one of the oldest and most experienced crane and rigging equipment companies in our area, you can count on Crane Rental Now to help you get the job done. Please contact us to request more details about our specific rental terms or to request a free estimate!
Learn More About Crane Rental
Visit Crane Rental Now